BAUFRIZT
---
Welcome to Baufritz Germany from Dagmar Fritz-Kramer.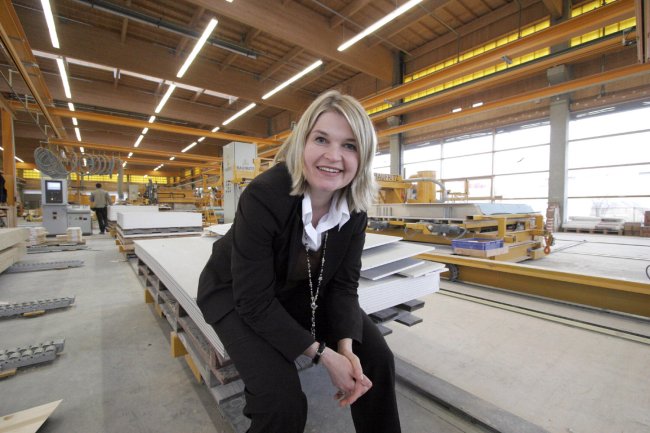 I would personally like to welcome you to Germany, and of course to the home of Baufritz here in the heart of Bavaria.
We have been based in Erkheim since the Fritz family first started the business back in 1896 and since then we have seen our company develop from a few timber barns to the innovative state-of-the-art facility that you see today.
There is a lot to see and do here, all of which reflects our core values of ecological and healthy building: The House of Ideas built in 2007 showcases some of the very latest design innovations and our contemporary show homes are sure to inspire you and give you new ideas for your Baufritz home.
Your tour of the factory will leave you in no doubt about the quality of our homes and gives an interesting insight into modern methods of construction. And of course, the award winning HausSchneiderei evokes a very memorable experience with its giant pegboard, sensory pathway and extensive range of interior and exterior finishes.
Being a German company, much of the information on display is in the German language, that's why we have developed this special guide for our English speaking visitors to help you get the most out of your time with us. If you have any questions at all while you are here, please don't hesitate to ask us, we have many fluent English speaking staff who are only to happy to help.
We value your feedback, so please do let us know your comments about your trip so we can continue to make improvements for future visitors. Many thanks for coming, and I hope that your find your time here inspiring and enjoyable.
Welcome to Die HausSchneiderei – our award winning showroom. From the moment you walk through the enormous wooden entrance doors, you will feel right at home. Kevin McCloud of Grand Designs fame called this building "House building Heaven" – we hope you agree!
The main function of Die HausSchneiderei is to assist our customers in making the final decisions about their Baufritz home. Here they will be guided by our interior designers to make hundreds of decisions about
We've been taking customers through this process for many years and we understand that it's not always easy, that's why we built Die HausSchneiderei – to make this the most enjoyable part of building your new home. exterior cladding, door handles, bathroom tiles and much more.
The word 'schneiderei' means 'tailor' and the name reflects the individuality of every home we build. In addition to the facilities above, Die HausSchneiderei is also home to a café serving hot and cold drinks and healthy lunches are prepared on-site to sustain you on your visit. We also have a small shop in the café area that sells a small range of children's toys and items for the home.
Our show houses are merely examples of what we can do, of course at Baufritz the opportunities are limited only to your imagination and we can design something that is just for you, your taste, your needs, your life. The Edition Red is an example of one of our most popular modular family homes. Flexibility is paramount with large full length windows on the ground floor to allow you to bring the outside into your home in the summer months. Sliding doors between the kitchen/ diner and living area add to the versatility of the space, allowing you to change your living space from open plan to separate areas with ease. Upstairs the ceiling heights give a sense of space to all the rooms in this practical three-bedroom family home.
In Germany, basements are very popular; whether used for living space or storage, they are an integral part of the home. In the Edition Red, the basement is used to house a plant room for the central heating system and services, and a wellness area incorporating a sauna.
House of Ideas The 'Ideen Haus' or 'House of Ideas' was opened in June 2007 to commemorate our 111th anniversary. It incorporates 111 new and innovative ideas from all our German staff to bring you the latest in building design.
Highlights include a luxurious bed that sweeps gently from the bedroom onto a glazed interior balcony at the touch of a button; a breathtakingly beautiful curved staircase, hand-crafted using steam from just a single piece of wood; modern methods of glazing and a stunning garden room.
Our Factory Our manufacturing facility is one of the most advanced in Europe and we manufacture around 230 homes per year. We have 260 staff working in the factory up to 6 days per week and where necessary on a two shift pattern to meet all our customer's requirements.
We are the first off-site manufacturer of timber homes in Germany to pass the EU Audit for ecologically sound production methods (accredited in 1996 and passed all assessments to date) and we are also DIN ISO Standard compliant (since 1998).
All elements are produced in a quality controlled environment to protect your home from the elements. Chemical preservatives are not used. Timber is dried in chambers and stored in a dry atmosphere on site. Each section is made with the insulation, external doors and windows already in place to ensure excellent air tightness, even the exterior cladding is already in place so that when we arrive on site, the building can be constructed very quickly.
Much of our factory is automated using machines that have been designed especially for us. We use state-of-the-art CAD technology that is linked to our systems to ensure millimetre precision for every house we build. But we don't just rely on technology; our factory is manned by expert craftsmen who have been extensively trained to ensure precision and quality.
Off-site manufacture has a number of key advantages over conventional methods of construction:
– Homes are manufactured under one roof to ensure they are protected from the weather
– Manufacture is largely automated hence it is efficient and precise
– This process is more energy efficient and produces less waste so it's a more eco-friendly way of building
– The process is more labour efficient as most of the work is done in the factory
– Construction time on-site is minimised so the house can be made watertight within a few days
– Faster on-site construction means less disruption for you and your neighbours In our factory you can see
• Trimming and joining machines at work with automated pick and place technology
• The special elements section where hand-crafted elements are applied e.g. filigree timber cladding
• Glass and window installation – for health reasons polyurethane foams are not used. Instead we use a Polyethylene substitute that we have designed that guarantees a lasting draft proof connection between the window and the wall.
• The paint shop where our eco-friendly chemical free paints are applied by our staff without the need for protective clothing or breathing apparatus
• The wood shaving processing plant. Wood shavings from the factory floor have to be the right size and shape so they need to be passed through a filtering system and then treated with an organic substance made from soda and whey
• The insertion of our patented wood shaving insulation system into the wall structure from the local dairy to make them fire, pest and fungus resistant. This system was approved internationally in 1993.
• The application of our patented X and E protection board that shields customers from electromagnetic radiation.
---